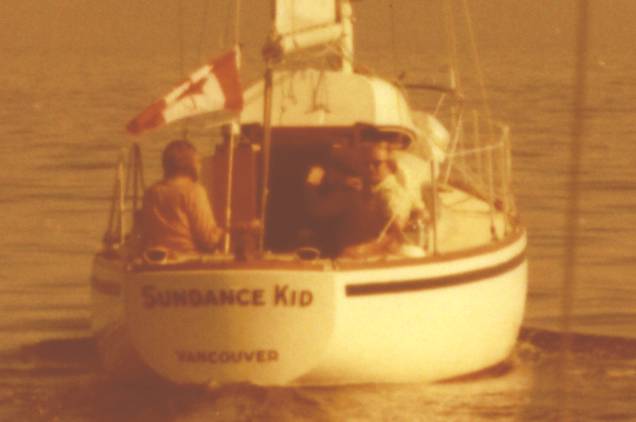 One summer long ago I sailed a 30′ sloop around Vancouver Island. Up the West Coast and down the inside. High on my list of places to stop was Hot Springs Cove. In those days it was a legendary spot that few people had visited and certainly nobody I knew. I noticed the name on the chart when planning the voyage and circled it.
Weeks later, after fighting my way single-handed out of Juan de Fuca Strait against gale force winds, I picked up Fiona near Ucluelet. She had somehow cadged a ride from the ferry at Nanaimo.
We headed north in light winds and fog patches. After anchoring in several remote and rocky bays the prospect of a hot bath was very appealing.
On the way to the Cove a thick fog settled over our small boat. Visibility was just a hundred feet or so. I fixed our position on the chart by eye before everything disappeared. I set a compass course for a red bell buoy south of the cove. After an hour of motoring at five knots I heard the clanging of the bell and soon the red shape appeared in the mist. We knew where we were.
The fog lifted and a hot sun appeared. Fiona changed from her foul weather gear into a string bikini. I took off my jacket.
As we idled into Hot Springs Cove we met a young native man in a canoe. It said "Coleman" on the side. He turned out to be a hairdresser from Victoria but he knew the area.
I asked how to get to the Hot Spring and he pointed to a trail leaving the public dock, empty at the time.
"It's an easy 15 minute walk up that trail."
We tied up at the dock. It was late in the day and we were hungry. Fiona made a pasta dish while I opened a bottle of red. Harder than it sounds since the corkscrew was nowhere to be found.
While we were eating two gillnetters arrived and tied up behind us. Their crews, a mixture of men and women, quickly left for the hot spring.
After dinner we donned bathing suits,packed towels and set of for the spring. The promised 15 minute stroll turned out to be 25 minutes of hard slogging through slippery mud and rocks.
When we reached trails end we came upon an old claw foot bathtub with a pipe disgorging very hot water into it. Three large dungeness crabs were cooking.
Past the tub was a stream of steaming water cascading through a series of pools including a waterfall that served as a shower. The last pool was at sea level where the tide was mixing with the hot spring water.
The next pool up from the bottom contained the fishing crew. They were a bit older than us. There were three women and 4 men. Nobody wore a stitch of clothing although a couple of tattoos were in evidence. They waved at us to join them. I dropped the shirt I wore over my trunks and Fiona laid her robe carefully on a bush.
The jolly noisy fishers waved us into their midst but the water was too hot for us and we went into the lowest pool. After a bit the rising tide filled it with cold water and we moved up to join the gang.
After some good natured ribbing about sissy sailors we doffed our suits. Fiona drew wolf whistles from men and women alike. I didn't.
Someone produced a bottle of rye which was passed around. One sip and Fiona turned red as a beet. Everywhere.
At dusk we made it back to our boat. The fishers were still in full party mode when we left. Hot water, whisky, and hiking left us limp and we slept the sleep of the dead.
In the late morning a shaft of sunlight in Fiona's eyes woke her. She woke me and I got up to make coffee. While the kettle boiled I stuck my head out and looked around. The two fishboats were gone and there was an old wooden ketch tied in their stead. The hatches were open but I didn't see anyone aboard.
After breakfast we decided on one more visit to the spring before continuing our voyage.
Having established that nudity was the standard there we left our suits behind and pulled on shorts and tee-shirts. The slog up there was still tough but morning energy helped.
At the top by the tub we doffed our clothes. The crabs were gone but shells on the ground indicated their fate.
As we climbed down to the pools we eard the sound of laughter. We rounded the corner and came upon a family goup, mother, father and three small children. What would you have done? We just got in the pool as if nothing was amiss.